​​​​​​​
Hi, just a reminder that you're receiving this email because you have expressed an interest in Selectafly. Don't forget to add support@selectafly.com to your address book so we'll be sure to land in your inbox!

You may unsubscribe if you no longer wish to receive our emails.
Fingers on Buzzers!
Yes, buzzer time is now well and truly with us - find out more about top patterns and techniques in the Advice Section below. Before starting to write this I took our younger son Thomas for a morning Selectafly product testing session at Farmoor - just to check that I hadn't forgotten it all over the winter. Once the misty cold start gave way to warmth and sunshine the fish started to show rather more interest and, in a long morning, we caught and released nearly 20 between us - all on buzzers - so the advice still seems to hold good! The fish we caught were in great condition and both of us were taken 'into the backing' several times.
Thomas prefers his own fishing look to the boring olive approach
The pattern of good fishing seems to be very much in evidence all over the country at the moment, especially now the weather has warmed up a bit. The forecast seems to suggest that the Easter heat wave will soon be over and things will get a bit more unsettled - probably good news for us fly-fishers, especially those targeting salmon. Time to plan a trip! And don't forget that, whether you have to fill holes in the flybox caused by rampaging trees or trout or need a few of the hottest new flies to try, if you're in the UK and you order by 3.00 pm your flies will normally come through your letterbox next day. (Please note that this timing is not guaranteed - if you have to be 100% certain we do also offer a premium guaranteed service)
Delivered by Hand - in Cuba!
With customs clearance of a recent shipment from Sri Lanka taking rather longer than usual, regular customer Willie Kirkpatrick had to leave for Cuba without a couple of patterns he wanted. However, showing the usual Selectafly commitment to keeping our customers fishing, we worked out that Pro Team member Matt Harris who left a couple of days later (by which time the flies had arrived) was staying in the next door hotel at Cayo Coco. Problem solved! - postman Matt made the delivery and the two of them discussed tactics over a refeshing Mojito!
Both were successful - here's a fine tarpon from Willie, on an SB Baitfish and Matt's umpteenth permit - this one fell for one of our Squimps
Small is Beautiful
A pattern we have seen emerging recently is the huge success on still-waters of all sizes of flies which are significantly smaller than those that we have often used in the past. Did we fall into a trap of thinking 'bigger is better' and/or 'they'll never see something that small'? Whether it's double figure fish from small waters falling for little, drab patterns like our Black Gnat Nymph - (don't worry about the hook, those Kamasan B175s are strong even in size 14s) or fish from the big reservoirs which can be converted from chasers into takers by scaling down the size of a Blob, small flies have a huge role to play.
The good news is that we are fully on board with this trend and have some great new patterns for you, with even more coming soon. Top of the list, of course, are the two Micro Blue Flash Damsels, in both the original Olive and equally effective in Black - huge sellers and for very good reason. They have now been joined by a couple of mini Nomad patterns in Viva and Olive colours and also some Blobs tied on smaller hooks and with 10mm Translucent (Jelly) Fritz rather than the usual full 15mm size. The 'hot spot' of vibrant colour is still there, just smaller - and that can sometimes make all the difference!
Advice Section - Fishing with Buzzers
For many people this is the cream of Stillwater trout fishing - perhaps because it's a calm, imitative approach where the fish are truly deceived rather than simply provoked into taking. It can also be devastatingly effective! Here is what works for me:
Leader set-up - for this sub surface work I always use fluorocarbon and choose what I believe (and tests support this) to be the best available - Grand Max Soft Plus, with Fulling Mill's new Masterclass a close second (do use the knots they recommend - it does make a difference!) There is a school of thought that says fluorocarbon is a con and a waste of money - I once thought so too until clear evidence showed me otherwise (not all of the time under any conditions but more often than once in a blue moon!). I avoid thicker, stiffer material which is great for avoiding snarl ups but, in my opinion, does not allow the buzzers sufficient movement in the water, so if a trout tries to suck the fly in it is sometimes spooked by the resistance.
I use 3, sometimes 4, flies to cover the different depths the fish might be feeding at (which regularly changes throughout the day) and this is one occasion when my droppers may be quite close together - if all the fish seem to be 2-5 feet down that's where to concentrate the team of flies.
Flies - more and more I favour less showy patterns like the SBD, the Green Glo and the Slow Sink buzzers, or the faithful old Stripped Quills over the brighter alternatives. These more showy patterns can work well when the water is less clear and for more recently stocked fish but I am trying to appeal to fish that have been in the water a bit longer and they are rather more wary. When you get it right the flies are hoovered up just like the naturals - takes can be very confident. In fact this is one time when breaks can happen on the take as a fast moving feeding fish takes the fly and hits the inertia of the line in the water. Fly colour can be important but often depth and size are far more critical factors.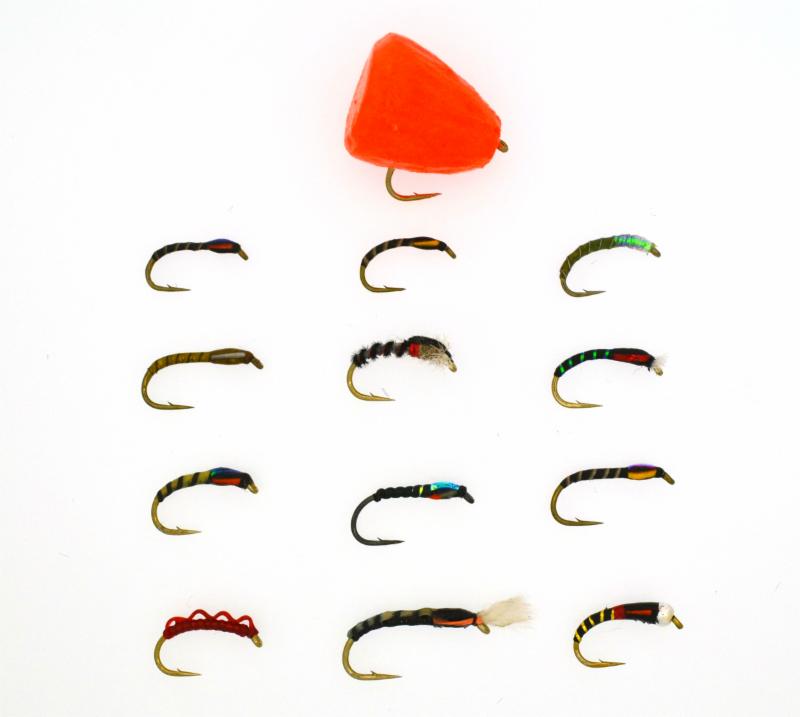 The Deadly Dozen selection of top performing buzzers chosen from our own ranges and Fulling Mill - available with or without the bung!
Retrieve - usually slow or none! although sometimes the fish surprise us by grabbing flies as we strip them in or lift off to re-cast. A little movement can also be useful to get their attention and/or to lift the flies in the water. Generally, buzzer fishing is easier from the bank or an anchored boat - a brisk drift makes buzzer presentation more challenging.
To Bung or not to Bung - some people start frothing at the mouth at the mention of the word but to us the bung is just another tool in our box. It is a fantastic way for less experienced fishermen and women (down to complete beginners) to fish nearly as effectively as an expert - and to enjoy their fishing - and isn't that what it's all about? I don't know of any other way of holding flies - static - at the exact depth I want them. Furthermore, when someone with as much experience as Anglian Waters guide Rob Edmunds says that he has regularly noted his clients catching bigger grown-on fish on the bung than he has done when using a non bung 'straight line' approach then one has to take notice - and I want to catch big fish like that! My favourite bung by far is the Ultimate, easy to cast, super sensitive and not so huge and garish that sailing boats keep circling it!
Finally - Fishing this month 50 Years ago
Jessica suggested that some of you might be interested in what my Father and his two young sons were up to on the riverbank in April 1969 - as faithfully recorded in Father's fishing diaries (he was always very unhappy that my own following of his example was casual to say the least!) So here we are:
'On the weekend of 19th/20th we were on the Usk at (upper) Llangybi - weather bright and very cold wind. Trout moving most of the day to Grannom which were hatching in large numbers, olives too.' Father 'bent the rod' briefly in a salmon which we then targeted for the rest of the weekend, to no avail, although the fish - Father noted 'a good one' - jumped many times. However, perhaps the most interesting point from this diary entry concerns the trout. 'We all fished for trout at mid-day and took twelve between us, properly spread (i.e. my Father caught the most!), mainly on the Greenwells.' On the Sunday we also had 12 trout, although I caught the most that day! For me, the interesting point is just how much fly life there was then and how many wild trout (stocking was unheard of), although in those days the avarage size was smaller and a fish of a pound was noteworthy. 24 fish over the two days and we only fished for trout around mid-day and used a basic wet fly 'down and across' approach. We stayed at the Three Salmons in Usk, still going strong today, although the menu (Father notes 'Scampi, Steak and Crepes Suzette') may have moved on!
Do get out on the water soon - Tight Lines when you do and very best wishes from us both!
Martin and Jessica
| | |
| --- | --- |
| | Selectafly, 9 Dukes Ride, Gerrards Cross, Bucks SL9 7LD United Kingdom |